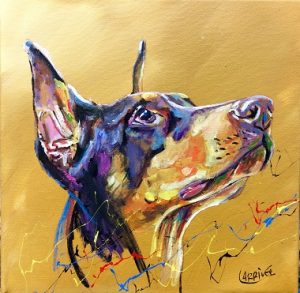 By François G. Cellier
April 24, 2018 — Art is the combination of two worlds: Imagination and realism. It evolves over time and experiences. Patrick Larrivée, Animal Artist, has polished his art to a rare level of abstraction. For him, a timeless painting is created through light. In other words, the artist's soul must paint the emotions with the colors to say it.
Painting with no barriers
The customer approach is very simple: Reproduce the image of an animal with authenticity, to avoid distractions, and for imagination to see the essence. Patrick Larrivée paints with no barriers, allowing emotions visible to the naked eye – trained or not – to unfold. To sum up, this artist runs on instinct.
The judicious use of colors became his trademark. It's the opinion of almost everyone who did business with him. "I paint the image I see, immortalizing the animal's gaze when he looks at his master" says Patrick Larrivée. Because he is like a sponge, painting is very demanding for him. "I am hypersensitive; I feel and absorb the emotions of others" he adds.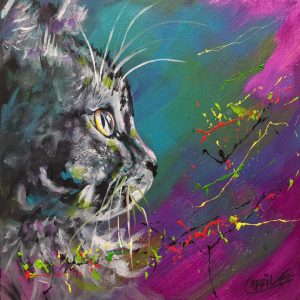 Setting the mood
A work of art must fill the space, not decorate, believes this artist who has a huge existential baggage. The ambiance and emotions emerging from the painting must invite us to travel. Without these qualities, it will fail to express the artist's view. In fact, a good painting triggers movement of the beholder's eyes.
No need to be an expert to recognize talent. Anyone can sort the wine from the chaff without being an oenologist, or know the difference between an insightful book and bland literature, just to name a few. It's the same for a painting: its purpose cannot be achieved without reaching the intrinsic fiber inside of us. Before being an Animal Artist, Patrick Larrivée first studied architecture and then, he began to paint rock musicians in action. "My inspiration came from what I sensed through space and the universe, as well as emotions and memories to illustrate my vision" he explains.
For Jimi Hendrix, each music note represented a color: C sharp was royal blue and F sharp of F minor was yellow purple. This is the reason why this legendary guitarist offered such unique on-stage performances. They were an hymn to the land and colors. "He painted music" says Patrick.
Hiatus
Yet, all this talent could have faltered in the mid 2000s, when he came close to quitting because of a shaken confidence. But a third prize won at the Festival de peinture de Mascouche gave him a second wind. He picked up his brushes again and never looked back. Then, through hard work, dedication and discipline, he managed to give a signature to his work. Very few artists can achieve this. But better yet, he now makes a living from his art.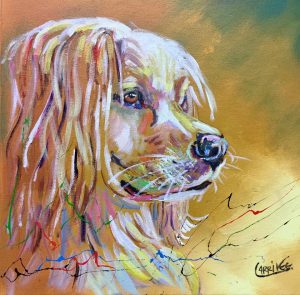 Patrick Larrivée has a sixth sense and it shows in his paintings. They are the result of a refined and thorough technique. The public cannot but appreciate this gift that was waiting to come out. After working his way up one step at a time, Patrick is now enjoying the fruit of several years of efforts and a well-deserved recognition.
To contact Patrick Larrivée: 514.512.3868
Do you like this article? Like us on Facebook.
All rights reserved.