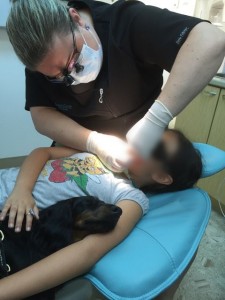 By François G. Cellier
January 4 2017 – Dr. Rachel Carrier is one of the few dentists in Quebec, if not the only one, to use zootherapy in her practice. This innovative approach is for those who are afraid of the dentist, as well as others who have developmental disabilities, such as autism and attention deficit disorder with or without hyperactivity.
The idea may seem special, a priori. Often, patients need an explanation of how the concept is deployed in the clinic. "We need proper hygiene measures and a protocol," said Dr. Rachel Carrier.
Various applications
Zootherapy at the dentist applies during dental cleaning, filling and for certain other procedures. "With adults, the animal will not necessarily be present throughout the treatment. The interaction between the patient and the dog is adapted on a case-by-case basis," says Dr. Rachel Carrier.
On the other hand, if it is a child or a teenager, the dog will stay with him from beginning to end. "Most of the time, parents want their child to be accompanied by a service dog," says Dr. Rachel Carrier. The first contact is created in the waiting room, although the children have previously seen pictures of the animal on the Web, as well as being informed of what they will experience at the clinic.
When they present themselves, they can no longer wait and want to see the animal. We made a first contact before Colette, a Dachshund, sits on the chair with them. It is held on a leash by means of a harness to the body. Meanwhile, his mistress, Sylvie Lamoureux, pet therapist and founder of Zendach Teckel SS, oversees operations on a permanent basis.
Special Patients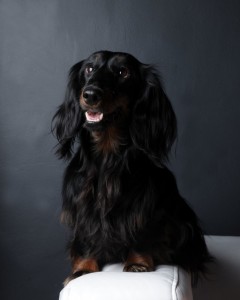 Children who benefit from zootherapy may never have been seen by a dentist, or have had a bad experience during treatment because of a fear, or developmental or behavioral disorder. "Colette developed her own protocol. Once the person sits on the chair, it will sniff his hands and then settle down permanently," says Sylvie Lamoureux. Depending on the course of treatment, it will adjust to the circumstances.
Dogs selected in zootherapy are endowed with a sensitivity that allows them to act adequately, that is to say according to the surrounding reality. For example, they are able to identify problematic individuals within a group, so the zootherapist knows exactly what situation they are facing.
To the Rescue
"Other dental colleagues refer me to complex cases, such as hyperactive children who are unable to stand still for a while. They feel the treatments given with much more intensity, because of a sensory perception different from the others," notes Dr. Rachel Carrier. Everything is more exacerbated in these patients, for example the light directed at them.
In such a situation, Dr. Rachel Carrier uses the method called "Tell, Show, Do", which consists in telling the patient what will happen, demonstrating to him by means of an object and then taking action. For its part, the animal brings a pleasant and unique dimension during a treatment. It will seek that closeness with the person being treated, so that the professional can concentrate on his work.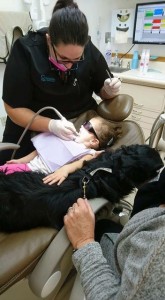 Colette is not present permanently in the clinic. She is called upon to intervene when a patient or her parents so desire. Weekly appointments are concentrated in a specific time slot. Up until now, zootherapy at the dentist is profitable to all who benefit from it. In fact, this approach attracts enthusiasm among patients who wish to take advantage of it. This allows them to anticipate a visit to the dentist with much more assurance.
You can also watch the video titled Dentist's Pet Therapy, and click on the button for subtitles.
Like this article? Love us on Facebook.
Photo 1: Dr. Rachel Carrier
Photo 2: Colette