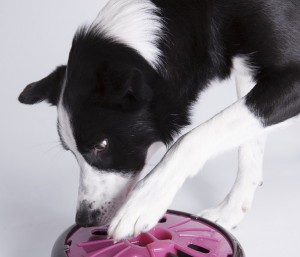 By François G. Cellier
July 13, 2016 — Pets need to be stimulated, particularly those who hardly go outside. One of the optimal tools to achieve this is the interactive bowl, forcing them to work harder to access food.
The Sense of Smell
It is well known that dogs have a good nose. "We must allow them to make use of it every day, otherwise they may develop behavioural problems associated with boredom," says Kathleen Desrosiers, vice-president and founder of the Quebec company Aïkiou, who has designed interactive bowls for cats and dogs. Their products are sold worldwide.
By definition, interactive thoughtful bowls should help any type of dog to eat slower. For example, a Labrador who normally eats a cup and a half of food in two minutes will need about five minutes, or more, to do the same with an interactive bowl.
Dynamic and Committed
It all started in 2008 for Kathleen Desrosiers, who herself has created prototypes of Aïkiou bowls. These were first made of wood and later of plastic. She then call upon an industrial designer to refine the style, and in the end making an attractive product. Today, all the bowls are made with steel moulds, where plastic is injected.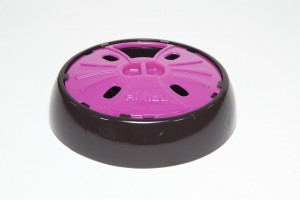 She would never have imagined that its products would become so popular. When in Fifth Form High School, she drew the plans for her future care centre for dogs and cats. Thereafter, this original Gaspésienne was trained in animal health at the Cégep de La Pocatière and she took a course to become a groomer.
Tireless
"I started grooming at home, in the basement, while pursuing my studies," recalls Kathleen Desrosiers. This mother, who is passionate about children and animals, then worked in a veterinary clinic for a year and a half. Then, at 21, her first business in grooming took shape. And finally, to top it all, she had patented her Aïkiou products in 2008. Even the Chinese love it.
In short, Kathleen Desrosiers has a gift for business. Had there not been a project in pet therapy that quickly aborted, she would probably never have started this business. "This is only a postponement," she said, as she eventually plans to invest in this field of activity.
A first book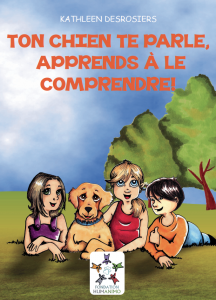 All paths led to publishing her first book titled Ton chien te parle, Apprends à le comprendre (Your Dog is Talking to You Learn How to understand it) A true little jewel of news that is timely, because a long saga raging about the Pitbull-breed dogs, this book serves as a deterrent and educational tool. Produced by the Humanimo Foundation, it aims at enabling young people to "interact" safely with dogs.
Every day, more than a hundred children are bitten by a dog in Quebec. In 40% of cases, these bites are inflicted by the family dog ​​or a neighbour's, "says the book, which illustrates several scenarios involving the family dog. It teaches children how to recognize the calming signals, and how to decode if the animal is stressed, scared or if it is going to bite. The back of the book is briefly commented by renowned Joel Dehasse, doctor of veterinary medicine and veterinary behaviourist.
Life unfolds at full speed for Kathleen Desrosiers, contemplating several projects at once. In fact, this businesswoman joined the business with pleasure. It not only contributes to the well-being of animals and people, it also leaves the instinct and intuition guide her choice. We must admit that so far, judgment and perseverance worked quite well for her.
Photos: Courtesy Aïkiou
All Rights Reserved
Like this article? Like us on Facebook!