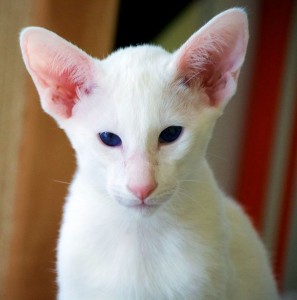 December 30, 2015 — Vast residential area where nine Balinese cats have found their niche, the ethical cattery "Under the Willow Tree" evokes the pure pleasure and an impression of never seen before. To tell all, the place is very inspiring, because it offers an environment entirely suited to the feline reality.
The conclusion is clear: this family home has been redesigned for both humans and felines. It is true that they feature inviting interiors, where interactive bowls, cats in trees, scratching posts and perches screwed to walls aplenty as well as an outdoor enclosure.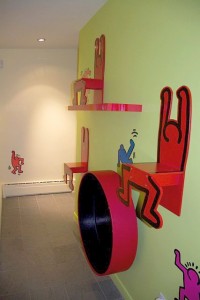 But even more, the place is equipped with an exercise wheel for cats, which was built into a wall exposing the works of the late artist Keith Haring. This residence also houses another exclusive creation, namely Pon-Pon, designed from a rudimentary table bought at Ikea. There is also a couch tunnel, in which cats are having fun to their liking, and a mural whose theme design invites "to fish feathers in the clouds." This mural is the work of Mel and Kio (du Pré d'Eau, Paris).
Endangered
Behind the overall interior concept emerges Natalie Robidoux, feline behavior consultant and ethical breeder, who wants one thing: to perpetuate the Balinese cats, which are endangered. "I wanted to create this environment in my own home, because I wished to integrate these cats in my family life," she said. The results are amazing because at first glance, there is no evidence that a person raises cats in that home.
The term ethics makes sense in this cattery since most cats are circulating freely, receive appropriate care and can express their true nature, three essential premises to qualify in order to assume that title.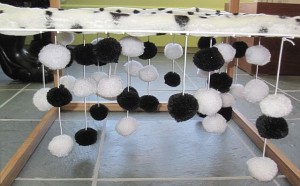 Like any animal species, cats have needs to fill. According to Maslow's pyramid, they must first be able to eat, drink and sleep, so to meet the primary needs that secure them. "The next step is to offer an environment that has three dimensions and playful situations (games) that stimulate their instincts, for example defense, predation, hide and seek, to name but a few", says Natalie Robidoux. As a result, animals are more stable psychologically and healthy. They are also more prepared to leave the nest in order to rejoin their new foster home. And the best in all this is that all those who adopted a cat give regular news. In this sense, the cattery "Under the Willow Tree" is a real extended family.
About Balinese
The Balineses are very interactive with their owners. They talk, look into your eyes and show great intelligence. In the literature that deals with the Balinese, their rating reached 9 out of 10 in this chapter. These animals understand at their first try, thanks to their incredible sense of observation. They think, make deductions and love challenges. "What you give to a Balinese, he pays you back a hundredfold," says Natalie Robidoux.
Hard to find a Balinese
For this cat, which is a long haired version of the Siamese, it is very difficult to unearth for the people who want to adopt one of them. This is in fact a feline species (natural) born from ancient Siamese. It has its origins in a time when Siamese cats gave birth, sometimes, to longer hair kittens.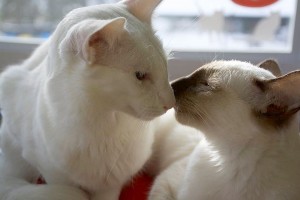 Breeding constraints explain its rarity nowadays. Balinese breeders abandon the race to go to other, easier to reproduce, e.g. oriental cat breeding. Raising Balinese requires great passion, because they are both unknown and very rare. "In short, to get acquainted with a Balinese, is to adopt it," concluded Natalie Robidoux.
Photos 2 and 3 : Exercise wheel and Pon–Pon
An ethical cattery strives to raise cats without genetic defects, avoiding inbreeding. To achieve this, all newly acquired breeding cats undergo genetic tests.

Like this article? Like us Facebook.
All rights reserved
You may read a French version of this article.
Visitors of this site may also read other articles in their English version:
Baltic
Pilots N Paws
Reactivity on a leash: what to do
You may also watch ou videos that are subtitled in English.
Click on the icon on the right hand side:
Balinese Cats/Zootherapy and autism/Advertising Video of Realité Animale