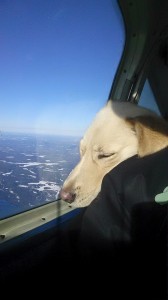 April 28 2015 — Like an angel from heaven, Jean-Sébastien Dominique flies to the aid of animals across the country. This 27 year old man's extraordinary sense of duty is what motivates him to volunteer for Pilots N Paws Canada, whose main purpose is to avoid euthanasia for as many animals as possible.
Pilots N Paws Canada started in 2012 in British Columbia, and follows on the footsteps of a group from the US of the same name, who indulge in similar activities. Gini Green is a handler, a volunteer rescuer and is the founder of this organization here in Canada. She saves abandoned, sick, mistreated and homeless dogs in a full time capacity.
A Ninth Mission
Friday March 13th, Jean-Sébastien Dominique, who was the first Québec pilot recruited by Pilot N Paws Canada, was tasked with a 9th mission. Planned destination – Côte-Nord where two dogs from the Sept-Iles SPCA were waiting for transport. These animals were transferring to the Laurentide-Labelle SPCA in Ste-Agathe-des-Monts. The chance of adoption from that area is much greater, and the decision was fortuitous since both quickly found new homes. Three more pilots with their own planes also took part in this mission, with the goal of returning 9 other dogs.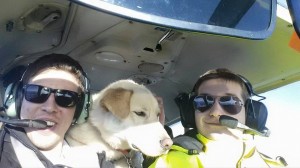 With over 600 hours of flight time clocked, this passionate aviator sat at the controls of his Piper Cherokee 140, leaving from St-Jean-sur-Richelieu. The return flight was approximately 13 hours with a quick stopover in Bromont, to meet his friend Raphaël Roy, who plans on taking flying lessons to become a pilot too. He assisted Jean-Sébastien during this mission, and was able to thrill in the wonderful feeling of freedom, when you're floating between land and sky. The two men went on to Sept-Îles in a radiant blue sky.
Devoted to the cause
Although he is a volunteer, Jean-Sébastien insists it is purely for the pleasure of flying. In this way, he is able to accumulate the experience necessary towards his ultimate objective: becoming a full time pilot. In the meantime, he makes good use of the tax rebates available for certain expenses.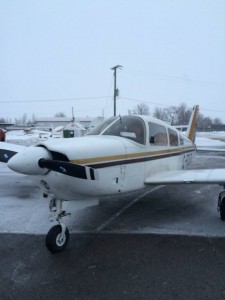 The biggest challenge for Pilots N Paws Canada is "convincing the volunteer pilots to fly to some of the most remote regions that are difficult to reach", as stated on their web portal. They do have a "fuel fund", which occasionally allows them to cover certain gas expenses.
Finally landed
Jean-Sébastien and Raphaël initially flew at an altitude of 5500 feet, but had to climb to 7500 feet to deal with strong headwinds. The trek then progressed without a hitch and upon arrival at their destination, fraternized with their hosts, shared a meal and took group pictures before refueling and boarding the two dogs. The dogs were enthusiastic, likely conscious that this trip would be a good thing and take them to a better place with hopes of survival.
It took 90 minutes after landing to start on the return trip and with favorable winds, the two friends took to the sky in clear weather, regardless of the light snow forecast in Trois-Rivières. They flew at an altitude of 6500 feet for the first 4.5 hours with the clear weather holding, but things became dicey after that. Shawinigan had light snow falling. Snow can accumulate on the wings and create icing on the wings. The plane isn't equipped for those conditions. So the pilot reduced altitude hoping to avoid the snow zone, but directly ahead, the visibility became worse.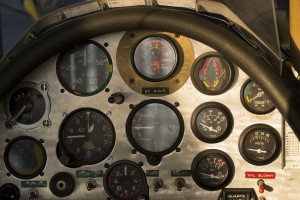 When conditions become too difficult or perilous, it is mandated by law to avoid the dangerous weather conditions, but the fuel tanks may not contain enough fuel to avoid this type of situation. So they were forced to land in Trois-Rivières and refuel. When they were ready to take off again, the weather conditions had worsened and it was now nightime. "Looking towards Montreal, it's total darkness where usually the skyline is glowing", exclaimed Jean-Sébastien.
In darkness
The plane flew above Sorel at 1500 feet, just enough to avoid potential obstacles. The snowfall intensified and Jean-Sébastien re-routed the plane towards St-Hubert, due to a radio transmission informing them of clearer weather.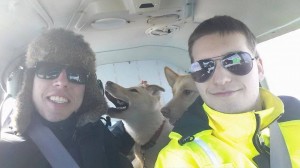 But now in Verchères, close to Montreal, the plane is in total darkness. "I had to cross a wall of snow, such that I could only see a very short distance ahead", said Jean-Sébastien. Although short-lived this experience was worrisome. His troubles were not over. He then had to land on a runway covered in ice and snow. "It was like being on a skating rink", he recalled. After a few manoeuvres on the ground, the plane finally came to a stop. Phew! If this was to be redone, Jean-Sébastien would not hesitate for a second to return to Sept-Îles. For him, this experience was extremely enriching. From this point, the dogs were transported to Ste-Agathe-des-Monts by car.
The dogs know when boarding the plane they are going to a better life. "Many are excited to take part in this journey, especially the younger ones they always want to sit up front", exclaimed Jean-Sébastien. Some are a little fearful when boarding the plane but normally, there is not much hesitation. For a pilot, which plays such a key role in the freedom of these animals, these moments are unforgettable. In truth, all the pilots who fly for Pilots N Paws Canada have many gratifying experiences. These trips require a person to go beyond oneself, to have a sense of generosity and a desire to accomplish something truly worthwhile.
P.S. Pilots N Paws Canada is looking for volunteer pilots in Quebec to help transport animals in need. You may also read this article in French.
Pictures 2 te 4: From left to right, Raphaël Roy and Jean-Sébastien Dominique.
In the next article, we will discuss Pilots N Paws reality here in Quebec.
Special thanks to Lillian Crevier and Caroline Crevier, who is the Quebec transport coordinator for Pilots N Paws Canada.
You may also read this article in French.
All rights reserved
Visitors of this site may also read other articles in their English version:
Reactivity on a leash: what to do?
The benefits of pet Therapy
Baltic life-jacket for cats